Earlier this year, we made a last-minute decision to visit the United Kingdom when we discovered that flights going to the UK from Dubai is quite cheap as compared to buying a direct flight from Manila to London. Our Dubai flight is proudly a Piso sale, which was only about Php 2500 one-way from Manila and Dubai to London for about Php 7000.
And the only thing that is now stopping us from our UK Trip is to acquire – a valid UK tourist visa.
What I love about applying for a UK Visit Visa is that you can apply for it anywhere in the world, whether you are a citizen in that country or not, as long as there is a VFS Global Centre in that city. In this UK Tourist Visa guide, I will try to be as detailed yet compact as possible and provide you with tips that I find very useful. I also shared our application journey and timeline below so you can compare our experience to yours!
What is a UK Visa?
A UK Visa is the authorizing document that gives you the right to enter the United Kingdom. Having a UK Visa will allow you to enter the four countries it possesses – England, Scotland, Wales, and Northern Ireland.
A UK Visit Visa looks like this!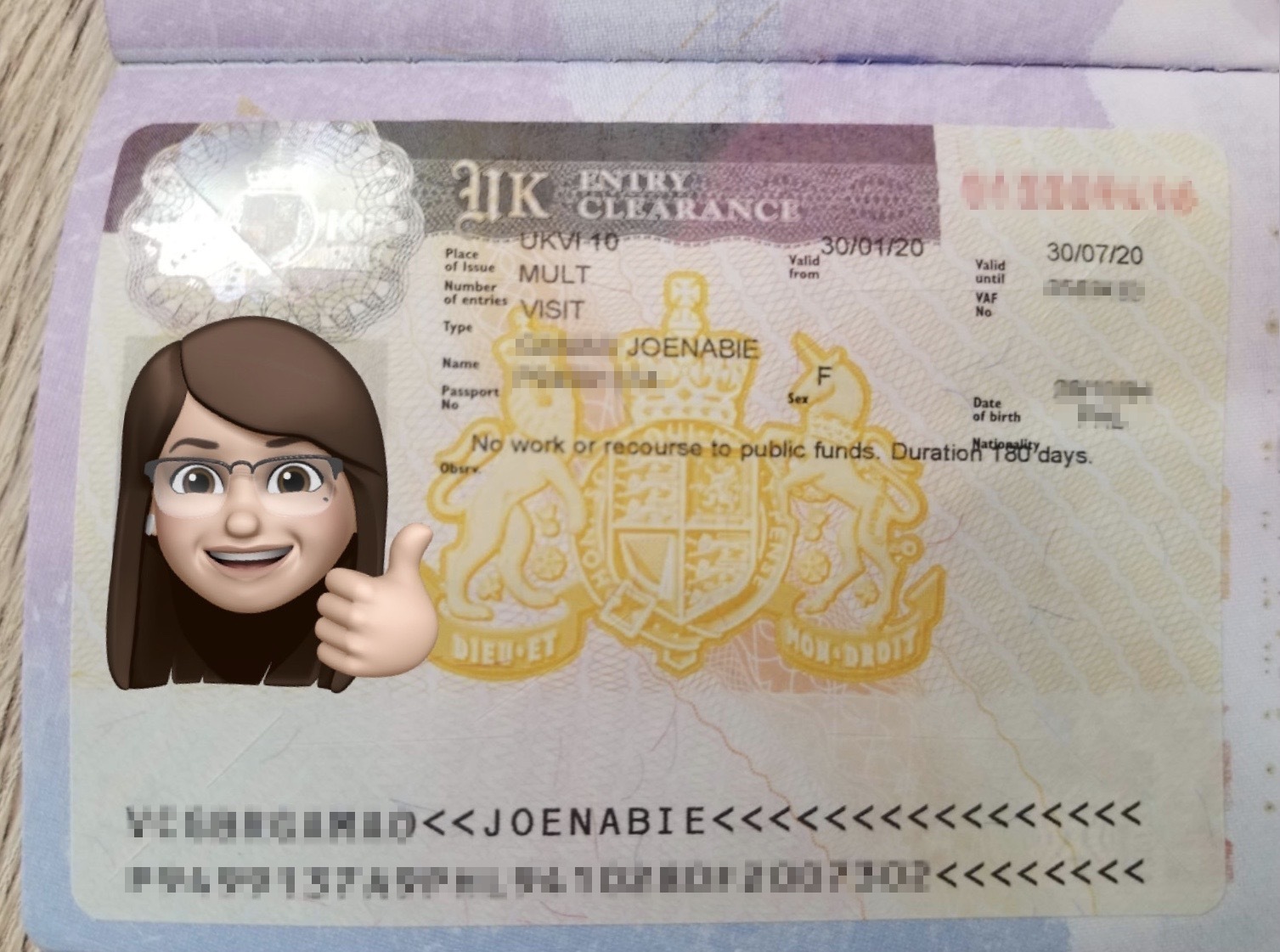 How to Apply for a UK Tourist Visa
A step-by-step guide for applying a UK Visa Online.
Identify if you need a UK Tourist/Visit Visa.

Click here to check if you need a visa and what visa type you need.
We will be covering the Standard Visitor Visa in this post.
– stay in the UK for up to 6 months
– can study for up to 30 days.
– visit family/relatives
– tourism/leisure/business

Fill up the Online Application Form.

– Start by filling up the application form here.
– Prepare to answer questions such as your travel dates, budget, details about your contact person / Accommodations in the UK


Should you decide to have a group appointment, mention it at the Additional Notes and include their GWF# which is located in the last part of the application form.

Pay the Application Fee

– Pay via Debit/Credit Card from there. You can no longer edit your application form once paid so review first before paying. You may also use this tool also to check.
– After paying, you will receive a confirmation email and see this page.



Download and print the Document Checklist, use this as a guide to prepare for your documents

Book your Appointment and upload/prepare your Documents.

– You will be redirected to another website upon clicking the Book your Appointment Button or simply click here.
– You will be creating another account in the VFS Global UK Appointment Site using the same email you used in filling up the application form.
– Take note of your GWF Number as you might need to re-enter them every time you need to log in at the VFS Global UK Page.


There are a lot of extra services you can avail such as having a courier, or SMS notification for visa application updates. More info

here

.

Personal Appearance for Biometrics and Passport / Documents Submission

What to bring:
– Your Passport
– Document Checklist
– Appointment Page

Come in at least 15 mins before your appointment. We finished after 45 mins. Once you have scheduled, print the Appointment Page.

Waiting Game

Once you've submitted your biometrics, docs, and passport, now we wait!
Expect about 15 working days more or less.
What are the Documents to Submit
Two ways of Document Submission
1. Online Submission - by self-uploading all your supporting documents in VFS Global Appointment UK's website.
NOTE: Format must be in PDF.

2. Walk-in Submission - by bringing all your supporting documents at the VFS Global Centre. They will scan it for you and you will be charged an extra Php 620 for this. 
NOTE: Format must be in A4 only. (or else they will ask you to photocopy it again in A4)
You will also be asked to print these Bar Code Separators to organize your documents. You may download them here.


 TIP: I humbly ask you to opt for #1: Online Submission. Saves you time and the trees. Use this as leverage. 
How much is the application fee for a UK Tourist visa?
The fee for a Standard Visitor visa depends on its length:
6 months – £95 (Php 6740 as of Feb 2020)
2 years – £361
5 years – £655
10 years – £822
Frequently Asked Questions (FAQs)
How long will I get my visa?
Usually,15 working days from the date you submitted your biometric data at the Visa Application Centre. More information here. We got ours in a span of 6 working days.
Should I purchase a flight ticket before applying?
UKVI does not require you to have a pre-purchased ticket. I personally got approved without sending one.
Can I fast track my application's processing time?
Yes, you may have it prioritized. Additional Fees will apply.
– Priority Visa: Php 14,204 (3-5 days)
– Super Priority Visa: Php 64,502 (24 hours)
Can I edit/cancel my application after paying?
Just in case you made a mistake or wish to cancel your application, you can issue a refund as long as you have not submitted your biometrics yet. It may take about 28 days for it to be reflected back in your card. Personally, mine took about 6 days.
Can I upload my documents later after scheduling an appointment?
Yes, you can! Just proceed on scheduling that available date and you can head back to the upload your documents part. This is really useful so that you can secure that schedule early on before anyone gets it.
When can I apply for a visit visa?
The earliest you can apply is 3 months before your travel date.
Can I Keep My Passport when applying?
You have the option to Keep Your Passport while waiting for a decision but with an additional fee of Php 3450. This can come in handy especially if you want to apply for other visas, such as a Schengen Visa. If you choose to Keep your Passport while applying, you will be informed via email or SMS once a decision has been made regarding your application, and you will have to head back again to the Visa Application Center to surrender your passport eventually for visa stamping.
( 2-5 working days )
Our UK Tourist Visa Application Journey
My Profile
20-something, Female
No Income Tax Return yet
2 months working in a new company
with valid visas to some countries
My Mother's Profile
50-something, Female, Housewife
did not declare any savings/income, expenses will be sponsored
traveled to Singapore (2x) and Hong Kong only
with valid visas to Dubai, USA
with land title
Our Timeline
Online Submission
January 18 – Online Submission
January 23 – Appointment Date: Biometrics and Passport Submission

We went at around 10 am because I also applied for another visa prior to our UK Visa application. Our schedule was 12:30 and12:45 PM, but we were able to enter the UK Application Center around 11 am. We just told them my mom and I are applying together and they gave us slips to enter the room.

January 30 – Our passports were forwarded to the UK Embassy and were issued with approved visas.
January 31 – Our passport has been delivered back to VFS ( as it was tagged so) However, we did not receive an email nor SMS as soon as it arrives.
February 3 – Both of us just received an SMS that our passports are now ready for pickup. But no email.
February 4 – VFS called us that we should pick-up our passports soon because it has been 6 days since our passports were there and they have to return our passports to the Philippine Embassy when 8 days are up. I was shocked because we just received their texts yesterday and no EMAIL at all. We told them we will try to ask someone to claim on our behalf since we are not coming to Manila anytime soon. We claimed our passports via Authorized Personnel the next day. She submitted an authorization letter from us, a photocopy of our IDs, her original valid, and our appointment receipt. Thank you, Maxine!
Final Thoughts
Overall, our application for a UK Standard Visitor Visa took us about 6 working days (From January 23 to January 31) by Standard Processing only.
Uploading your documents is really convenient to save you from additional stress!
We are looking forward to our UK Trip that is still yet to happen this year and praying that the Corona Virus won't get in the way. 🙏

How about you?
When do you plan to visit the UK and apply for a visa?
I hope by reading this will help you with your application. Feel free to ask me any questions by commenting below! I will gladly answer.